On a family vacation to Edisto Island, S.C., I visited the grounds of the New First Missionary Baptist Church. This active church is listed on the national register of historic places and dates back to 1818.
I loved the simplicity of the structure and knew immediately that I wanted to use it in a painting. When I wandered toward the rear of the church the cemetery came into view. It was well kept and dotted with a variety of grave markers and reminded me very much of the church I attended when I was young.
Back in the studio, I started doing drawings and quick studies from my references. I initially was focused on the entrance of the church but I just kept thinking about the feeling I had when I was near that back entrance and looking out over that graveyard. The idea of the less formal back door entrance of this living active church in contrast to the dotted grave markers was really intriguing. So I shifted my focus.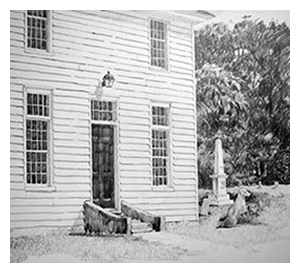 The composition was coming together but showing the back entrance and the graveyard just didn't deliver the idea this was an active living church. I didn't want to add a human figure into the composition but I needed something. The title of the painting and the living element came to me during a Sunday morning sermon.
Before I continue, let me preface my next comments by saying, please just assume we had a visiting Pastor on this particular Sunday.
So, on this particular Sunday the "visiting" Pastor's sermon was, let's say, stretching out. As other thoughts started drifting through my head, I realized that I needed to use a dog as the living element in that painting. Why a dog? Because I knew no matter how long the sermon went on, a dog would still be waiting at that back door for it's owner. Problem solved and I had the title of the painting too.
I initially had two dogs in my composition but when I continued to work out the details I changed to just one. I also changed the direction in which the dog is looking from straight at the viewer to looking somewhere out of the framing of the image. This allows the viewer to feel as if they are not disturbing the scene by their presence.
I like the way the finished piece looks. We briefly had this hanging in our home. It was purchased by The Pickens County Museum for their permanent collection.