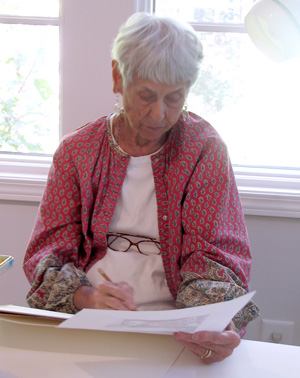 This is a portrait of my high school art teacher, Liz Smith-Cox. This photo was taken during the sitting for "Liz's World". On the day of the sitting, Ms Liz was so excited and noted the smock she was wearing was her mom's. She sat for me all morning and we went to lunch and returned to her studio for apple pie that she had baked that morning.
We had a great day together. Ms. Liz passed away in January of 2014. Unfortunately, she never got the opportunity to see the original.
However, before she passed away, we had a conversation about the painting at an art show opening and a day later I emailed a photograph of the painting. The following is my email to her:
---
"Ms Liz, as always, it was so good to see you yesterday.
I have attached a photo of the painting. You asked me the title of the painting. As I said, I had been bouncing between two but I always seem to come back to the one. I want to share why I chose the title.
When I first entered your art class as a 10th grader, I had never had any formal training. I had no concept of what gesture and contour drawing might be. My knowledge of the world of art was very small. I had never encountered someone that was so excited about creating art as you were. That excitement started opening my eyes to all the possibilities to express myself.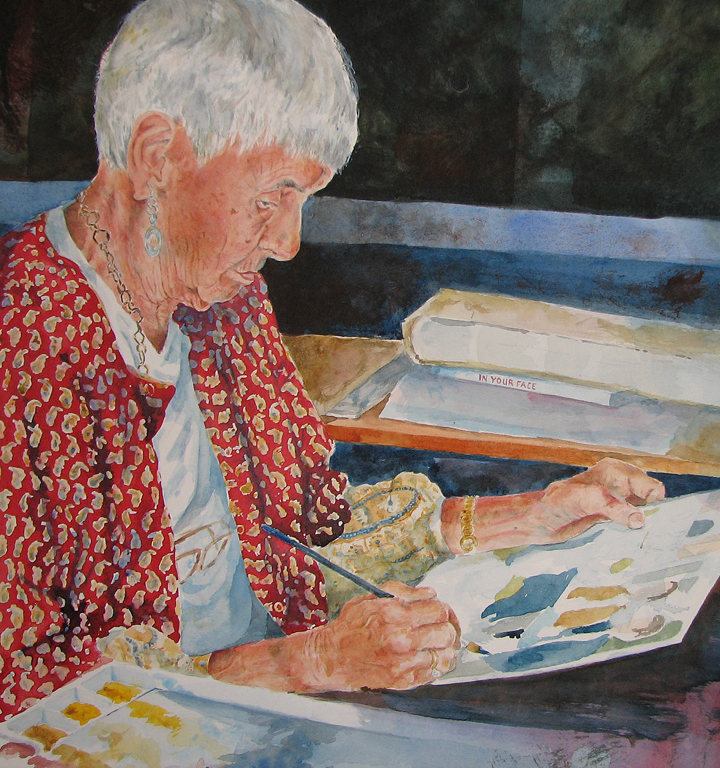 After you had been on a personal museum trip, you shared the story of standing before a well-known painting and said, "I stood and looked at that painting and I wept". That statement was so powerful and touched me. The painting was "Christina's World" by Andrew Wyeth. That statement ignited a lifetime of creating for a 10th grade boy in your art class.
I am still on my quest to create a work that can touch someone the way that painting touched you. Thank you Ms Liz! In honor of that day and your dedication to inspire so many lives, I titled the piece, "Liz's World".